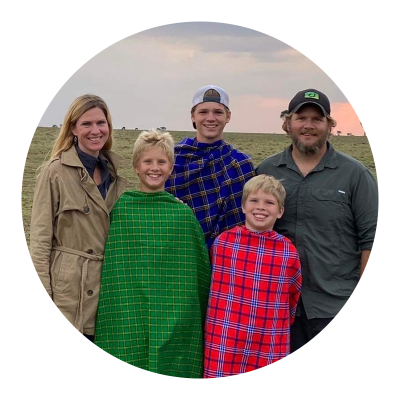 Population: 55,990,000
Religion: Christianity, Islam
Language: Kigiryama, Somali, Swahili
Josh and Maggie Ghrist serve with their three sons (Matthew, Caleb, and Jordan) at Lighthouse for Christ Mission in Mombasa, Kenya. Josh has been the Mission Director for four of the last 15 years and Maggie works as the Teams and Hospitality Coordinator. It's been an honor for them to work alongside their national staff and pastors in the three-part ministry of the Eye Clinic, Bible School, and Fellowship of Churches. Through the vehicle of eye care, they bring the gospel to a coastal population that is largely unreached for Christ. They are committed to discipling and training pastors who expand the Kingdom of God through church planting.
Their hobbies are hosting the wonderful volunteers that come to serve, and sharing their love of the local beach and fishing! Their ongoing prayer request would be for their boys to thrive in the boarding school they attend and for wisdom as they parent from a distance and lead the mission of Lighthouse.