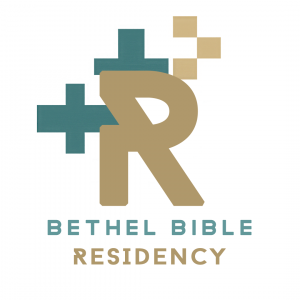 Thank you for your interest in the Bethel Bible Residency! We are excited to offer a new leadership development ministry to help accomplish the mission of Bethel Bible Church and THE Church.
This is a hands-on, experiential learning program where you'll be paired with proven Bethel leaders to develop a unique course of study that matches your gifts and ministry interests so you can be better equipped to lead, whether here at Bethel or out in the world!
If you have any questions about the application or residency program, please email residency@bethelbible.com.
The Residency is a nine-month long deep dive into the Bible, theology, church leadership, and hands on experience.
Areas of Pastoral Focus:
Family Ministry
Missions & Outreach
Cultural & Ethnic Diversity
Expository Preaching & Teaching
Church History
Pastoral Counseling
Ministry & Life Calling
Church Leadership & Governance
Apologetics & Cultural Engagement
All participants will complete two online classes in basic theology and Biblical interpretation

Additional reading and discussion as required by the instructor

Complete various projects assigned by the instructor
The Bethel Bible Residency provides Biblical training, discipleship, and real ministry experience for gifted leaders who desire to serve in vocational ministry.
DEVELOP deeper understanding of theology and ability to communicate truth.


DEEPEN and broaden ministry experience.
DISCERN your calling and gifting.
Each course in the Residency Program creates the opportunity to develop a deeper understanding of the areas of pastoral, church and congregational ministry. Each course is taught by Bethel Bible pastors. Participants will engage in six courses of their choosing.
Applications are due August 1
Once application is submitted, an interview will be scheduled
Interviews will be completed in August
Residency program will begin in early September and conclude the following May