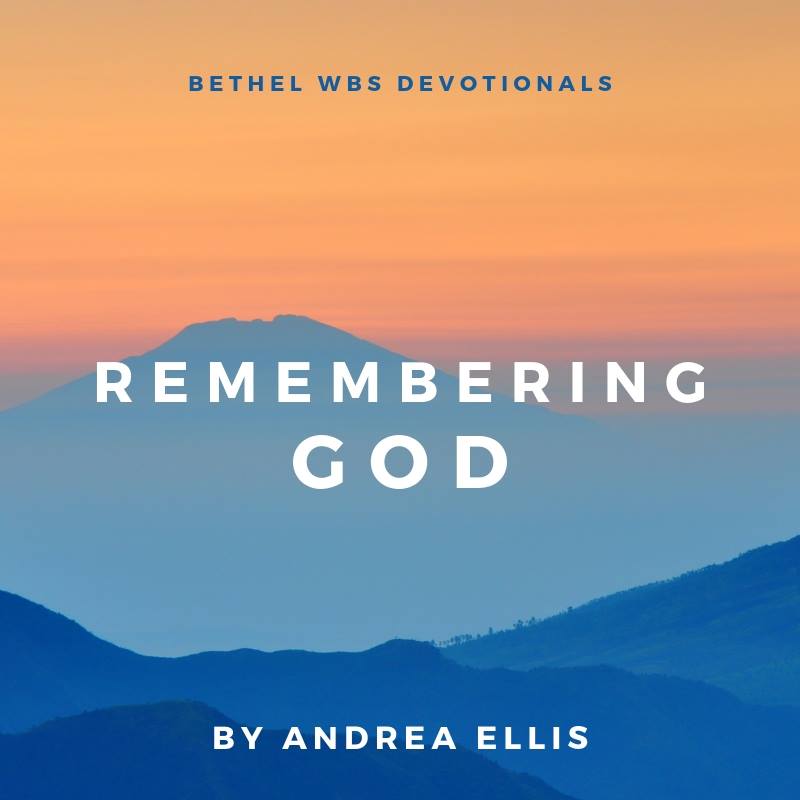 By Andrea Ellis | February 2019 WBS Devotional
"And these words that I command you today shall be on your heart. You shall teach them diligently to your children, and shall talk of them when you sit in your house, and when you walk by the way, and when you lie down, and when you rise. You shall bind them as a sign on your hand, and they shall be as frontlets between your eyes. You shall write them on the doorposts of your house and on your gates.  And when the Lord your God brings you into the land that he swore to your fathers, to Abraham, to Isaac, and to Jacob, to give you—with great and good cities that you did not build, and houses full of all good things that you did not fill, and cisterns that you did not dig, and vineyards and olive trees that you did not plant—and when you eat and are full, then take care lest you forget the Lord, who brought you out of the land of Egypt, out of the house of slavery." (Deut. 6:6-12, ESV)
The Israelites were on the banks of the Jordan River, preparing, at last, to cross over into the Promised Land when they received this sobering warning to "take care, lest [they] forget the Lord." God had delivered them out of slavery in Egypt with mighty works of power. He had provided for them in the wilderness for 40 years, even as they grumbled and complained about the heavenly carbs He provided for them daily. And now He was giving them a new home, a land flowing with milk and honey, a land full of good gifts they did not earn. Would they be forever grateful? Surely they would never cease to sing His praises and tell of His mighty works! Surely they would never depart from His ways!
Unfortunately, we know from our study of our own wayward hearts that this is not human nature.  When blessings flow, it is far too easy to grow complacent, entitled, and forgetful. In the book of Judges, we read that after Joshua and his generation died, "there arose another generation after them who did not know the Lord or the work that he had done for Israel….And they abandoned the Lord…" (Judges 2: 10, 12).  How do we "take care lest [we] forget the Lord?".  Deuteronomy 6:6-9 shows us how.
Keep His commands on your heart. God had written His law on tablets of stone for the Israelites, but His intent was for His people to impress the law on their hearts and to obey them.  How do we impress God's commands on our hearts?  We spend time reading His word.  What does it say? What does it mean? What does it teach me about the God who breathed every word of it? And, like looking in a mirror, how does what I see in the reflection change how I will behave?  We don't do this through sheer self-discipline or willpower but through the power of the indwelling Holy Spirit. We already know how Israel fared—they were unfaithful to God and broke His covenant. And yet, in the wake of that broken promise, God spoke through the prophet Jeremiah these sweet words about a new covenant He would make with His people: "I will put my law within them, and I will write in on their hearts….I will forgive their iniquity, and I will remember their sin no more" (Jer. 31:33-34).  It is Jesus who secured these new covenant promises for us: the forgiveness of sins and a new heart that is able to submit to and delight in God's commands through the power of the Holy Spirit.
Teach His ways diligently to your children. We repeatedly recount to ourselves and to others the stories of God's mighty works and great faithfulness in the Word and in our own lives. This is our testimony. As Paul wrote to the Corinthians, "You are a letter from Christ…written not with ink but with the Spirit of the living God, not on tablets of stone but on 'tablets of human hearts'" (2 Cor. 3:3). Think of your life as a letter from God to the world. How is He using your stories to tell His Story?
Be intentional with your time, taking advantage of everyday moments. Deuteronomy 6:7 says to talk about God when we sit and walk when we lie down and rise. That is, we should talk about Him everywhere, all the time! When hiking in the woods or watching Star Wars or reading with your kids, where do you see evidence of Him? Where do you hear echoes of the gospel? How can we incorporate Him into our daily rhythms and morning and evening routines?
Surround yourself with His Word. His Word should have a prominent place in our lives. This doesn't mean you must literally have Bible verses scrawled all over the walls and door-frames. However, visual reminders are helpful and can provoke spiritual conversations in your home. Above my daughter's crib we have a psalm of Moses: "Before the mountains were brought forth, or ever you had formed the earth and the world, from everlasting to everlasting you are God" (Psa. 90:2). It focuses my heart on the eternal, constant, all-powerful Creator of my child who loves her more than I ever could and who entrusted her to my care. It gives me peace and perspective.
Confessing the goodness and faithfulness of God and sharing His mighty works with the next generation is for His glory and for our good. "Tell to the coming generation the glorious deeds of the Lord, and His might, and the wonders that He has done…so that they should set their hope in God and not forget the works of God, but keep His commandments" (Psa. 78:4,7).
PRAYER:
Father, you are the one and only, holy, powerful, and eternal God. Thank You for rescuing me from slavery to sin through Jesus' death and resurrection. Let me never forget it! By the power of your Holy Spirit, incline my heart to obey your commands and bring them to my mind often! Help me to point others to You in all my words and deeds, so that they, too, might set their hope in You. In Jesus' name, Amen.
QUESTIONS FOR REFLECTION:
What are the stories of God's mighty works in your life that He has given you to pass down?
How can you be intentional to honor God and teach His ways in your family time (morning and evening routines, mealtimes, in the car, special occasions, etc.)?