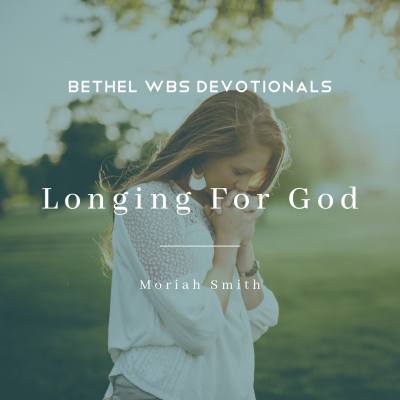 By Moriah Smith | September 2019 WBS Devotional
So put away all malice and all deceit and hypocrisy and envy and all slander. Like newborn infants, long for the pure spiritual milk, that by it you may grow up into salvation—if indeed you have tasted that the Lord is good. (1 Peter 2:1-3 ESV)
I know nothing about plants. Nothing. But late this past spring, I got an itch to have something pretty on my front porch. I loaded up my four-year-old, and we decided on a couple of pots that caught our eye at the nursery. Unfortunately, most days I forget to water them. My little guy is usually the one who reminds me that they need water. But on the days that I don't have his sweet little voice reminding me to venture outside, my once beautiful plants look fairly limp. The leaves wither a little each day and start to look sad. I usually notice their need for water as I'm walking out the door, and I tell myself I'll water them when I get back. Now is not a good time. Or sometimes I look out the window and notice the shriveled leaves and think, I'll wait until my son wakes up from his nap. He loves to go outside and water the plants with me and see how much they've grown. And then another day goes by. One excuse after another.
This morning, I glanced outside, and they looked just about dead. I rushed outside in an attempt to save them and drenched them with the hose. I assumed my effort would be futile, but a little before dinner I caught a glimpse of them out the window. You would never know that they had just endured far too many days of drought. Their leaves, plump and strong, basked in the sun. They needed that drink. Longed for it. And it had made a difference.
Do you long for God's Word each day? Can you feel yourself start to wither on the days you go without letting His Word speak to your heart? How do you feel if you go weeks, months, years without His truth nourishing your soul? I believe we NEED God's Word. It's why He gave it to us. There is a reason He chose a written text as a way to reveal Himself to us. And once we have had a taste of true relationship with the Lord, our souls long for it. We long for His goodness, love, and peace in our lives. Nothing else will fill us quite like He will. If I had gone out and dumped a gallon of milk on those plants in my effort to revive them, I doubt I would have been pleased with the outcome.
We do the same thing when trying to find help, hope, love, and peace in this world. We turn to friends or the internet. Or, if you're like me, you turn to yourself and rely on your own strength to get you through the day and simply hope you have the patience and ability to love all those that you encounter that day. Unfortunately, we fail. We're not strong enough, patient enough, loving enough, or wise enough. But God is. We need Him in our lives. We need His Word. Every day. Try to put away all of those distractions, and instead, soak in His Word and His goodness. He is faithful and waiting for you. In fact, Peter says that as we come to Him, we are "being built up as a spiritual house, to be a holy priesthood, to offer spiritual sacrifices acceptable to God through Jesus Christ" (2:4-5). We will grow a little each day in our knowledge of Him if we are faithful to spend time with Him. You may not notice the little changes each day, but over time, just like my little plants, you will notice how much you've grown.
You will most likely be encouraged and made stronger when you spend time in the Word. But even better than that, you will come out on the other side knowing more about God. And that should be our goal. Better relationship with him. Changed hearts that long for and desire what God desires. As we continue to spend time with Him and in the Word, we will start to understand more and more how much we need Him and the redemption He has given us. Once we have tasted, we will want to return. And nothing else will satisfy us.
PRAYER:
Father, thank You for your Word. What a gift You have given us! Lord, I confess that many days I don't have the desire to read Your word. I allow the distractions of life to get in the way of my time with You. Give me a passion for Your Word each day. Help me to turn to You for strength and wisdom, and "open my eyes that I may see wonderful things in your law" (Ps. 119:18).
QUESTIONS FOR REFLECTION:
Are you growing in your relationship and knowledge of the Lord?
Can you think of a time when you did long for God's Word?
What is holding you back from spending more time with Him?